BUGATTI CHIRON SAPPHIRE CRYSTAL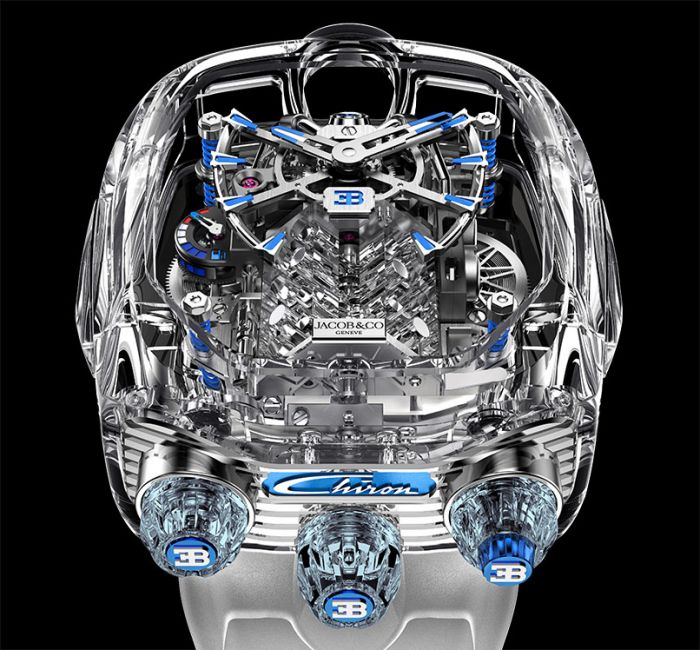 It started with an idea conceived by Jacob & Co. together with Bugatti – how to reproduce the visceral sensation of the iconic Bugatti 16-cylinder engine in a timepiece.
After almost a full year of development, the answer is here in the form of the Bugatti Chiron Tourbillon. Everything is designed to honor the Chiron in a timepiece. The case is inspired by the flowing lines of the Chiron and the movement, or "engine block," intended to duplicate the Bugatti engine, is placed under a massive sapphire crystal, on display for all.
The Bugatti Chiron Tourbillon features a 30º inclined tourbillon, the first time Jacob & Co. has ever used an inclined tourbillon. The "flying" part of the tourbillon means that the regulating organ is only supported on one side, so the tourbillon is even more mesmerizing. The 30º inclination makes it easier to admire this incredible complication.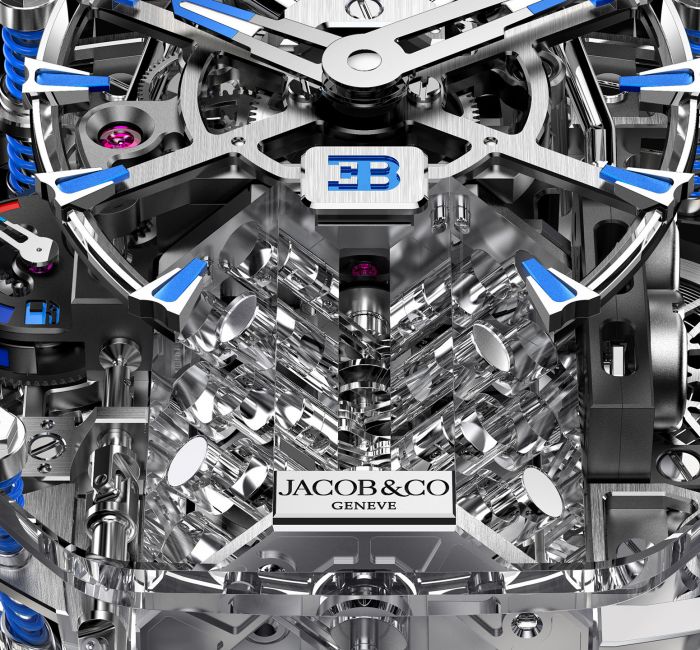 Here's where it gets interesting: push the right-hand crown of the timepiece and the engine comes to life – the crankshaft turns and the 16 pistons pump up and down, just like a true internal combustion engine. Two "turbochargers" (down from four in the actual Chiron engine) on the side of the engine block spin while the engine runs, adding to the visual impact.
Incredible to see and unbelievably complicated to realize (the movement is comprised of 578 components), the Bugatti Chiron Tourbillon timepiece has done something no one has ever even attempted before – to seamlessly marry engines and watches.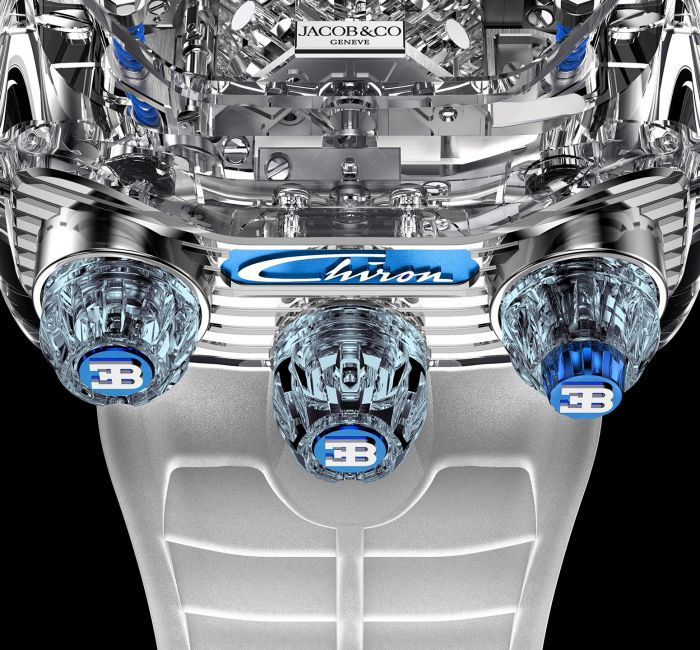 The crowns for the watch are at the bottom of the case – the left crown sets the time, the middle crown winds both the movement (60 hours of power reserve) and the animation, and a push of the right-hand crown starts the animation.
The suspension of the movement caused an additional challenge for the movement designers, as they had to create (and patent) a special automotive-style jointed transverse system so the crown posts aren't damaged by the movement going up and down inside the case.
The power reserve for the animation and the power reserve for timekeeping are different, yet both are wound through the winding crown, clockwise for the movement, counterclockwise for the engine animation. The power reserve indication even has the universal gas pump symbol on the side of the gauge at nine o'clock.
The Bugatti Chiron Tourbillon from Jacob & Co. is a world-first — a true engine on the wrist.  Retrieved from