The House of BOVET 1822 welcomes you to explore the continued evolution of its exceptional engineering brilliance and artistry of human watchmaking, as it presents uniqueness at its best.
BOVET is proud to introduce its Sunshine Collection starting with a very limited edition of only 7 Brainstorm Chapter Two with a magnificent Yellow Dial. Mr. Raffy has imaged this new bright and vibrant yellow dial while watching the sun at the zenith from the Castle in Môtiers. Nature has always been an important source of inspiration to him. The positive energy and happiness felt while staring at the sun immediately grew into the Sunshine Collection. Yellow has much significance and cultural history, yellow ochre pigment was one of the first colors used in art.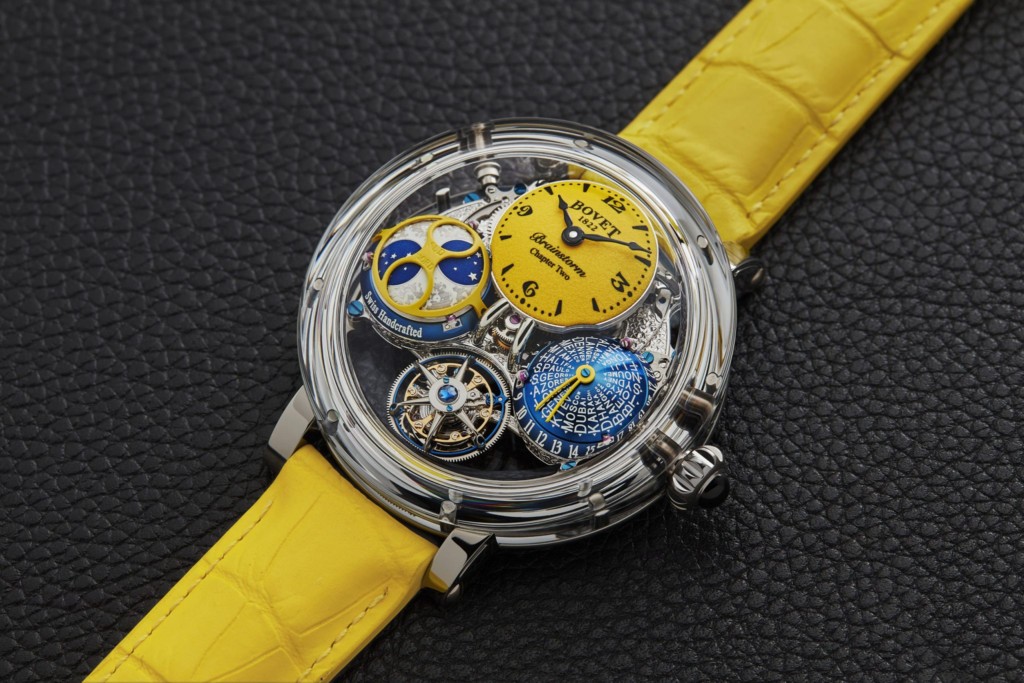 Yellow is the most luminous of all the colors of the spectrum, it is the color of happiness, optimism, enlightenment, creativity, and sunshine. With this timepiece, the House of BOVET honors its dedication, passion, respect for tradition, and care for the minor details that are the hallmarks of exquisite and unparalleled high watchmaking.
The new Récital 26 Brainstorm® Chapter Two Sunshine is available in fully hand-engraved movements, all in the crafted monoblock Sapphire "Writing Slope" case (47.8 mm). It features a yellow dome-shaped dial, hand-coated by the BOVET artisans with a green Super-LumiNova® (SLN) that gives the dial a powder finishing to the surface. The yellow dial accumulates light from the sun, transforming it into a vibrant green dial at dusk. The green color not only enhances the readability at night, it also adds an unexpected new dial to this spectacular timepiece. The green SLN treatment on the entire surface of the dome and its porosity add complexity to the pad printing process, making it one of the most challenging processes.
The Récital 26 Brainstorm® Chapter Two features a patented double-face flying tourbillon, a patented radial guidance system, a three-dimensional moon phase with five days of power reserve, and a patented three-dimensional V-shaped needle that allows the collector to display the time zone of their choice. This innovative combination imagined by Mr Raffy, united with the dome, allows for an intuitive Universal Time function, permitting each of the 24 time-zones to be read simultaneously.
Retrieved from.